Elastomeric gaskets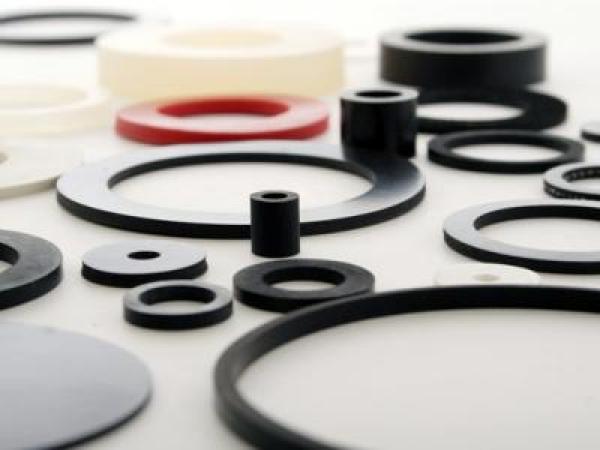 Within this family we distinguish between elastomeric gaskets, made from processed rubber rolls or molding and other elastomeric seals.
In Coestan we manufacture gaskets of any type of rubber. We also have profiles, bands, inflatable sleeves or belts or molded gaskets. The main qualities of rubbers on the market are:
Natural rubber: hydrocarbon from latex, which is extracted by bleeding from several species of tropical trees. The resulting Natural Rubber has excellent mechanical properties and is suitable for applications with heavy loads tear or subjected to frictional contact with abrasive elements.
Synthetic Rubber: from oil, have worst traction response than natural rubber but much greater resistance to solvents, greases, oils, hydrocarbons, etc. Also they have a lower aging use in contact with ozone, temperature changes or oxidation. Synthetic rubbers are more suitable for gaskets in contact with chemicals agents or weathering. Each quality is suitable for some specific applications, see the data sheets of the materials in our technical area to determine what quality is suitable for their conditions of service or, if you prefer, in Coestan advise you directly.
Large water pipes or plastic pipe networks need rubber gaskets with metal reinforced, which ensure safe sealing avoiding that the internal turmoil of pipelines move the gasket toward the outside of the sealing surface. It is an elastomeric seal whose core is a flat steel gasket. This kind of product is known as G-ST gaskets and is available in DIN and ASA sizes and in different grades of material. In Coestan we have some measures in stock for immediate delivery and offer a flexible service for those dimensions it must be produced.
In some food applications, highly aggressive, pharmaceutical chemical processes, is highly conditioned the use of conventional rubbers. Corrosion or high temperatures can have devastating effects on O-rings, causing premature aging and failing to ensure the seal, in these cases it is advisable to use the encapsulated O-rings. It is an O-ring whose core is Silicone or Viton and has an encapsulated FEP coating. Coestan has encapsulated gaskets unlimited diameter and torus, with delivery of 2/3 weeks and with a special service 4 working days for committed emergency. The diameters of the Encapsulated O-rings, as the conventional O-rings, are defined by the inner diameter of the seal and the torus itself.